PA building dazzles with true talent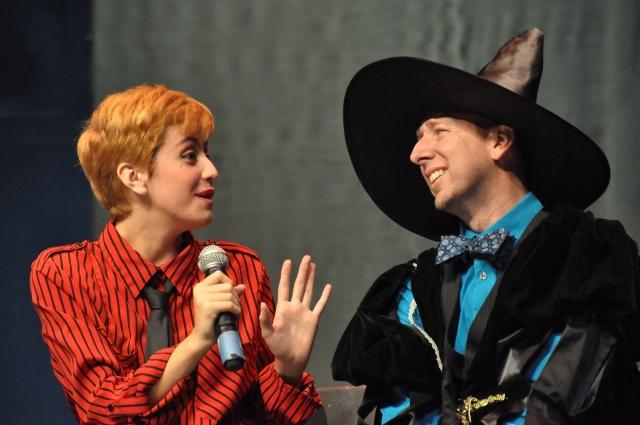 Almost everything has a personality, whether it be a person, inanimate object, or even a place. Often when walking down a school hallway, its personality can be bland and boring. However, the personality of the performing arts building is something utterly unique.
In OHS's performing arts building, the talent that walks the campus truly gets a chance to shine. Whether someone's passion is dancing, singing, acting, playing an instrument or making ceramics, a student can get their chance to express themselves.
Choir
Cindy Durazo, choir and piano teacher, devotes more than just school hours to her students.
"I probably put in a good six to 800 extra hours a year," Durazo said. "It's a lot of work."
Luckily, Durazo loves her work, and said that it is a very rewarding job to teach music and be able to watch her students grow both musically and as people.
While Durazo's passion lies with choir, she enjoys seeing the entire fine arts department come together.
"I think we're a whole entire family. We support each other," Durazo said. "The choir obviously becomes its own family, but they support band students and their wonderful accomplishments at state."
Durazo said that choir students support theater as well and that she has many students who are in more than one fine arts class.
Dance
While singing is very prominent in the PA building, dance is another area of the PA building where students have the chance to express themselves. This group includes Lauren Ware, junior.
"Dance is my escape. I love getting to clear my mind and express my emotions through movement," Ware said. "And the relationships I've gained from it are amazing."
Ware not only thrives on the relationships she has made through dance, but the energy of the PA building as well.
"The PA building is so full of happiness and laughter. Everyone has amazing personalities and they are all so determined and dedicated to what they're doing," Ware said. "I love it."
Band
Many choir students also participate in band, which is headed by band and guitar teacher Melanie Britton.
"I teach wind ensemble, symphonic band, percussion ensemble, orchestra and concert band," Britton said. "And starting second semester I have a performance jazz band and obviously marching band."
With so many different classes, Britton needs a lot of energy to keep up with everything. Fortunately, she is not short on passion for her students.
"I know school's hard and it would be really hard for me to sit through seven hours of teachers talking, so if I was boring, then it would be really hard to come to class," Britton said.
Because of this, Britton said she aims to help her students bond so they can be comfortable with each other and not feel awkward when they make a mistake.
Although she enjoys making her class a fun atmosphere for students, Britton has very high expectations.
"It's nice to have fun, but it's no fun to suck," Britton said. "I have very high expectations, but obviously they rise to those expectations."
Band has achieved a lot lately, including recording for 94.5 KOOL-FM, being selected to perform in the Holiday Bowl and winning the state championship.
"We beat the five-time state champion which was Desert Vista," Britton said. "I have to say it was one of the biggest adrenaline rushes in my entire life."
While band is very important to Britton, she also enjoys seeing the department work together and believes the department is vital to OHS.
"In a fine arts class, there's a lot of interaction and you're rewarded for your creativity," Britton said. "When you're out in the workforce, you need to have those personality skills and I think you gain those in the fine arts."
Band not only impacts Britton's life, but every student who participates as well. Taylor Targioni, junior and member of the band, said she feels most comfortable in the PA building.
"I spend a lot more time there than in any other building," Targioni said.
Targioni also agrees that the band really comes together as a group.
"My favorite part of band is the people," Targioni said. "After being around each other so much, we all get to be pretty close friends."
Ceramics
Performance art is very important to many students, however, that is not the only part of the fine arts department. Jeff Davenport, ceramics and AP studio art teacher, loves working with the students as well.
"I love ceramics. I've always wanted to teach ceramics," Davenport said. "I have a degree in fine arts with emphasis in sculpture, so ceramics is kind of right up my alley."
Davenport previously worked with elementary students and is enjoying the change of pace in the PA building.
"I love being in here. I love to hear the band playing, and I see the students from the dance class coming by. It's wonderful, I love it," Davenport said. She also said how she loves the new experience of the artistic energy of the building.
Much like the other classes in the building, Davenport supports the other fine arts and even works together with Kent Younger's ceramics classes as well.
"We'll have competitions. We have kids from my class judging his projects and his kids judging our projects," Davenport said. "It's really great to have such a great coworker in Kent."
Theatre
Davenport, Britton and Durazo are only a few of the fine arts teachers who dedicate so much time to their students. The PA building is also home to dance and theatre. No one knows dedication to the more than Fine Arts Department Chair and theatre teacher, Toni Fioramonti.
"I grew up performing in theatre," Fioramonti said. "When I got to college I was a performance major and then decided that I actually really liked working with kids, because I was doing that as an internship, so I decided to teach theatre instead of being a performer."
Fioramonti became the new Fine Arts Department Chair after Jason Lohmeier left OHS this past year, and sees many responsibilities as a result.
"Rehearsals go to about five, so I'm here until five most days," Fioramonti said.
Fioramonti also helps with the annual field trip to Disneyland, the three productions put on each year as well as being the building manager. With so many responsibilities, she finds motivation in her students.
"My favorite part is working with the students. Whether it's rehearsal, class time, the performances and anything that has to do with putting together a performance," Fioramonti said.
Being so artistically influenced, Fioramonti is right at home in the energetic atmosphere of the PA building.
"This building is very loud," Fioramanti said. "We have band rehearsing in the hallways, we have dance rehearsing in the hallways, sometimes we have choir singing, so it's very loud at all times."
Fioramonti also notices the large amount of support the entire department has been showing to each other.
"This year I have to say it's a much more positive atmosphere," Fioramonti said. "We've really stuck together, banned together, supported each other and made signs for each other."
Tori Niemiec, junior and president of the drama club, also takes comfort in the bonds formed between the students in the department.
"I would describe the relationships I have built as extraordinary. Every person in the arts has been welcoming and kind and made me feel as if I really have another family," Niemiec said.
However, Niemiec notices that while the people in the department help each other tremendously, the facilities are in need of repairs.
"I would love to see an update to all of the arts facilities but I think one of the most important things to replace would be the sound system," Niemiec said. "It has seen a lot of wear and tear since the school has opened. Many of the departments use it so it would be nice to not have as many technical difficulties as we do."
"I'm really working to try and get the things fixed in this building that need to be fixed and updated," Fioramonti said. "We're the most outdated building in the district. Our electronics, our equipment, everything is the most outdated as far as what we can do with our shows."
Durazo similarly said that choir has to fundraise for absolutely everything, including purchasing music and festival fees.
While financial support for the arts is scarce, the department keeps supporting what they are passionate about.
"The arts in society as a whole aren't as supported as we would like," Fioramanti said. "So we've kind of banded together to make sure that arts and education at least as this school are flourishing."
About the Writer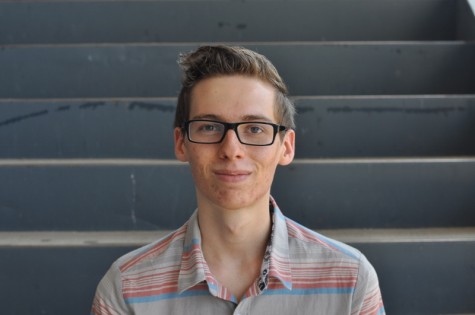 Ryan Temple, Editorial Chief
I am a senior at OHS this year and this is my third year in the OC Journalism Department. I'm now the Editorial Chief, and look forward to expanding...