Winter play, Beauty and the Beast, is a highly anticipated show
"Cheer up child, it'll turn up all right in the end. You'll see," said Mrs. Potts from Disney's "Beauty and the Beast".
These timeless words uttered by a tender-hearted and benevolent talking teapot made history on Nov 22, 1991, the premier of Disney's "Beauty and the Beast". The great rapport and connection that people made with the "Beauty and the Beast" characters and plot encouraged the making of a live action remake in 2017. Both movies proved to be extremely successful. Now, for the third time, it is being re-enacted by the students at OHS.
The work of the actors, set designers, tech team, and teachers is well known across the OHS campus. This advanced and noteworthy show is a great way to showcase all of OHS' homegrown talent. With talking furniture, a giant beast, various detailed settings, and different musical scenes, the talented students had great opportunities to utilize and display their skills.
The magic featured in Disney's original "Beauty and the Beast" will be perfectly brought to life by OHS students. A lot of the credit for creating that magical feel goes to the set design and tech team. The various different scenes, while challenging to create and perfect, have not stopped the set and tech teams from constructing wondrous works of art that will surely shine on stage.
But, the magic created through the beautiful set and perfect timing of the tech team can not truly be felt without the help of the actors. The melodious voices and accomplished acting skills will certainly animate the entire story in a trailblazing and primitive way.
The premier of the highly anticipated show takes place on Thursday Jan 30, beginning at 7 p.m. Further showings are on Friday Jan 31 at 7 p.m., and then on Saturday Feb 1 at 2p.m. and 7p.m. Come out and support OHS theatre and experience the thrilling re-enactment of Disney's "Beauty and the Beast" and the masterpiece that will be performed.
About the Writer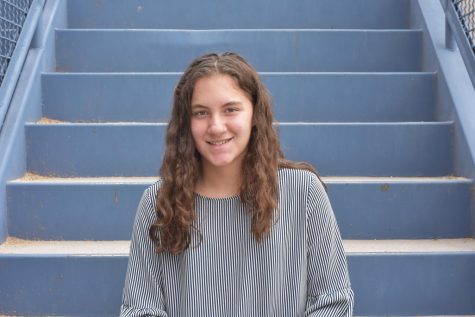 Macy Sanchez, News Editor/ Features Editor
My name is Macy Sanchez. I am a junior, and this is my second year on the Talon. I am the News Editor, as well as the Features Editor this year. I love...