Peter Pan flies to the OHS theatre
Everyone has come to know that following the "second star to the right and straight on till morning" will lead to a land in which children never have to grow up. Kids have traveled to Neverland through the animated classic and countless remakes of Peter Pan for years and now a musical production has found its way to the OHS campus.
Members of theatre have been diligently working to piece together this complex play for months and now it is finally going to be ready to debut Thurs Jan 31. With shows spanning from Thursday to Saturday, the hard work and dedication that the students have put in is sure to pay off. Addison Bowman, senior, is tackling the role of Peter Pan and her enthusiasm for the part is sure to spread to the audience.
"I hope that when kids come and see it, it will bring one of their favorite movies to life and feel like it's magical. Because we are flying in the show, they'll hopefully feel a little magic, have a really good time and leave with a smile on their face. That's what is most important to me," Bowman said.
To make the story of Peter Pan come alive, theatre held fundraisers in the beginning of the year to be able to afford the very expensive flying system that carries the actors across the stage. Jason Amoako-Agyei, junior, has been tasked with controlling the ropes to make sure the actors give the best performance possible.
"Behind the scenes there are four ropes that fly four different characters in Peter Pan. The rope connected to Peter Pan is the only one that goes back and forth across the stage; that is the heaviest rope we have. Usually, we're jumping on that rope to lift Peter Pan up and even in the beginning scene, we have to jump from a ladder to bring her all the way up off the stage," Amoako-Agyei said.
Peter Pan is a very tech-demanding production. There are many intricate props and backdrops that are necessary in supporting the overall performance of the actors. Madelyn Sperry, senior, helps bring the story of Neverland alive on stage.
"We move a lot of sets, most of our sets are very big. Lots of big backdrops and wings so there's a lot of scurrying around in 30 second periods," Sperry said. "If you didn't have the tech that supports the actors, then they would just be in the dark emotting."  
To play Peter Pan, Addison Bowman had to overcome many physical and mental obstacles in order to make her performance as believable as it can be.
"The fear of flying in the first place is definitely [a challenge], the fact that I have to play a boy is different, I've never had to do that before. It was kind of scary at first because I was like 'What if it's not believable?' Most of the people are probably going to be confused because they're going to be like 'Wait that's a girl,' but most of the productions on Broadway, Peter Pan is played by a girl just because it is a dance and vocally challenging show," Bowman said.
Overall, putting on a production as complex as Peter Pan requires a lot of hard work from every member of theatre. Teamwork is a very important aspect of Peter Pan for every element works together to create a wonderful show.
"The whole theatre class prepares for it just by working together because it's one of those shows where everyone is important because there's so many different aspects of the show," said Bowman. "There's a lot of set pieces moving, so the tech people are really important. Everyone is really working hard together to make sure that the show is something special."
About the Writer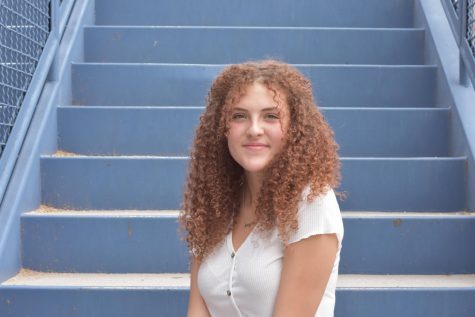 Peighton Gellings, Arts and Entertainment Editor
Hey I'm Peighton and I'm this year's A&E editor. I'm a junior and this is my second year on the Talon. I love listening to music and watching...