Marching band returns with winter concert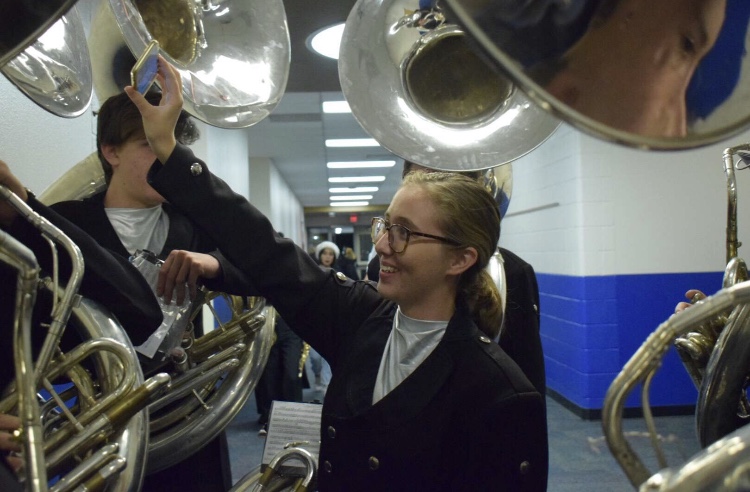 With every note played and step taken, the marching band has triumphed over all of the rest. They have succeeded time after time and now the marching season has come to an end. Their last performance of "Pure Imagination" has come and gone and with it, the obstacles that have loomed over the past semester.
On Thursday, Nov 29 the band picked up their instruments and played their show for the last time. "Pure Imagination" signified a great deal of important things; it showcased the idea that as humans we focus a good majority of our time on more analytical aspects in life, when we should look more towards the creative side. Chantel Visser, sophomore, completed her first marching season this year.
"Our show [is] supposed to be the difference between the left and the right [side of the] brain which is more creative. The left brain is analytical and all numbers, which is what we use in school. We spend so much time in there that when we go see this world in the right brain, it's all colorful and we can do so much more with the world," Visser said.
Unfortunately the season came to end at the state competition. The band thought that they would make it farther, and were surprised when they didn't. Although, the year is not over just yet.
"I think that it ended a lot shorter than we expected it to and we were very sad about it, but we are going into concert season now where we are not doing as much practice and I think that's a little different because we don't have as [many] responsibilities anymore," said Visser.
Even though the band didn't make it as far as they wanted to, it didn't damage their spirits. Braedyn Pentowski, sophomore, is the tuba section leader and hasn't let the competition season get her down.
"Now that it's coming to an end, I'm going to miss all of those late band nights, but I feel like we've tried our hardest. We couldn't have done any better and we really put our all into this," Pentowski said.
The band has had to overcome many obstacles throughout the duration of the semester. Their band director, Melanie Britton, resigned just before they were about to go to the state competition.
"I personally overcome it by relying on my band members because we are all a family here and we support each other and sometimes I find myself wanting to support other bandmates," said Pentowski. "As a band we have overcome it by showing our hardwork and dedication to the season and making it our best for the seniors."
This shortcoming didn't have a truly drastic, negative impact on the band. Instead they once again triumphed and saw the positivity within the circumstance instead. Davin Song, senior, is the trumpet section leader.
"It was hard and, to some degree, it made us closer to each other and we didn't have that figure, of course, there was staff and other people that stepped up. We really banded together and supported each other; that's really how we got through this season, because of each other," said Song.Overall, the band show on Nov 29 concluded the end to an amazing season, despite everything that occurred.
"Our drum majors and our directors tried to keep us pumped and motivated and we kept going," Visser said. "When Ms. Britton left [we asked ourselves] 'Are you doing this for someone? Are we doing for ourselves? Are we doing it for our families that wanted us to do this?,' and that really motivated us to keep our feet moving on the field."
About the Contributors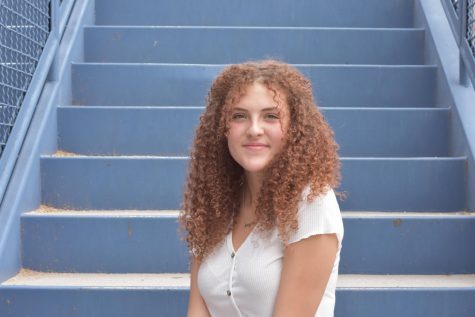 Peighton Gellings, Arts and Entertainment Editor
Hey I'm Peighton and I'm this year's A&E editor. I'm a junior and this is my second year on the Talon. I love listening to music and watching...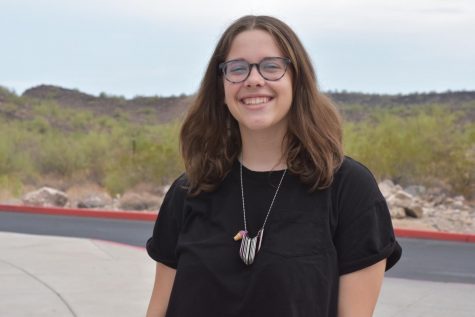 Cassidy Moore, Co Editor-In-Chief
Cassidy Moore is Co Editor-In-Chief with her long term friend Nikki Hazelett. She is excited to begin her fourth year on the Talon and can't wait to see...