Lady Bird flies far above high expectations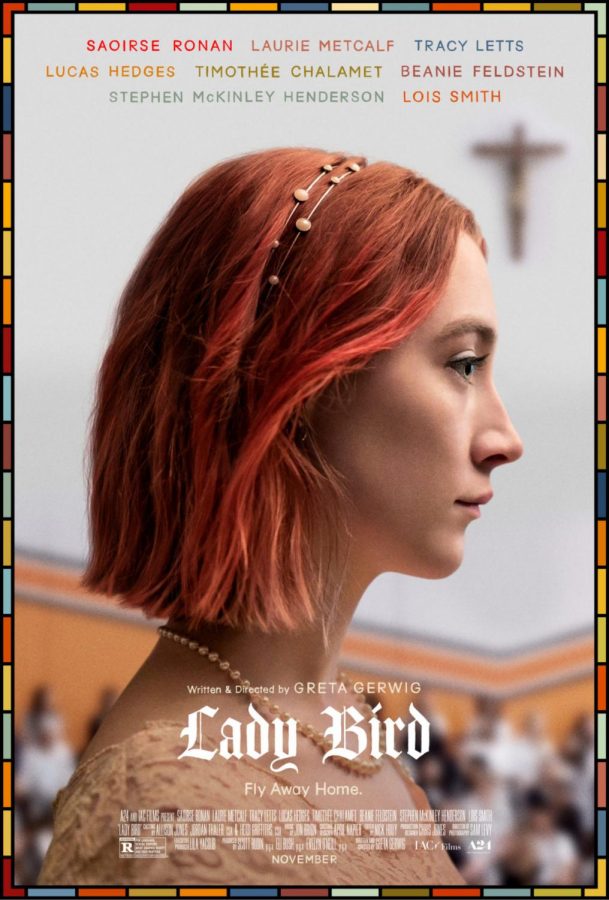 DISCLAIMER: Lady Bird is rated R. You must be 17 years or older, or accompanied by a guardian in order to view it. The Talon does NOT encourage underage students to see this movie illegally or without a guardian.
When movies come out over the course of a year, it's obvious after a while what the storytellers of Hollywood wanted to do. To get a laugh, to make a beautiful looking film, to excite you, to scare you, or maybe just to make money. "Lady Bird" is the first movie in a long time that has stuck with audiences everywhere. It breaks your heart, makes you think, and will make you text your mother to tell her how much you love her, minutes after getting out of the theater.
"Lady Bird" is a drama-comedy about high school senior, Catherine "Lady Bird" McPherson, played by Saoirse Ronan, and the events that take place in one of the most emotional years of a teenager's life. It's one of the most highly-rated films on acclaimed movie review site, Rotten Tomatoes. It remained at a score of 100%, the highest score on the site yet, for a month, before only recently being knocked down to 99%.
Over the course of the story, Lady Bird is subject to the turmoil of trying to find herself and where others fit in her life. She wants more. When others don't believe much of her, she challenges it. But along the way she damages her relationships with others, and loses parts of herself she thinks she can never get back.
Lady Bird has a turbulent relationship with her mother Marion McPherson, played by Laurie Metcalf. Their relationship is the main focus of the story, and the main reason Lady Bird is so determined to prove herself. Marion and Lady Bird are so similar, that it is a constant butting of heads between them. They are both extremely loving and emotional characters, but they both fail to see the damage they are doing to one another with their fighting words.
This movie would not have been the same if not for these two beautifully well-developed characters, or the actresses portraying them. Ronan and Metcalf have such energy that transformed a coming of age story of a modern teenage girl into one of the most heart wrenching and relatable movies in the genre. It's difficult to put a finger on the pure love and frustration that comes out of a relationship of a parent and a child, and these two women nailed it perfectly.
One of the most unsuspecting and heart wrenching performances, was that of Lucas Hedges, portraying Danny O'Neill, a traditional Irish-Catholic teenage boy, Lady Bird's first love interest.
O'Neill is kind and naive, and he and Lady Bird share a short and sweet relationship, leading to her spending Thanksgiving with his family. Their relationship ends abruptly, however, after Lady Bird finds O'Neill kissing an unnamed male character in the bathroom of a diner.
O'Neill later confronts Lady Bird to apologize and express his grief about having to come out to his family and keeping it a secret for the time being. He falls apart and sobs while Lady Bird has trouble keeping him up.
The worst part of this scene is that it wouldn't be far off from reality. This story takes place in 2002, the Don't Ask, Don't Tell policy was in place, as well as this still being a time when gay marriage was illegal. Children are still shut out from their families for coming out as LGBT+. For many people, this scene could be reality, and it was reality for a long time.
The story of this film, is normal. Everyone watching can relate to something. There are no fighting monsters or overcoming large obstacles. It barely has a happy ending. That's the most important part of this movie. It's completely usual and painful but will touch you and make you cry your eyes out. Lady Bird is a extremely well made testament to how beautifully ugly growing up is, and I recommend it to anyone and/or everyone.