Classic Christmas films bring cheer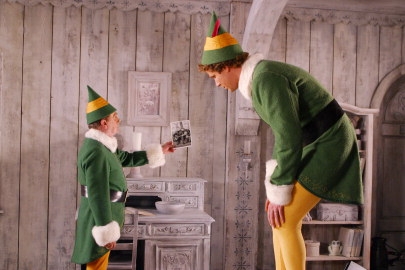 Christmas is right around the corner and there is no better way to get into the spirit than curling up on the couch and watching your favorite holiday movies with your loved ones.
Here are a couple of my favorite Christmas movies:
National Lampoon's Christmas Vacation (1989)
If you have seen past Lampoon vacation movies, you will know that Clark Griswold (Chevy Chase) likes to make all of his family activities over the top.
This Christmas, the Griswold family turns the most wonderful time of the year into an absolute nightmare.
Clark wants nothing but to show his family a "good old fashioned family Christmas" that he once had as a kid.
The family begins with going out in the middle of nowhere to chop down a huge tree, covering their house with blinding Christmas lights, getting a surprise visit by cousin Eddie, burns the cat and the Christmas eve feast to a crisp, and goes absolutely  insane by the end of Christmas Eve.
Throughout the movie not only does Clark have all of his crazy relatives under one roof, he is waiting for his non- existent Christmas bonus in the mail that will help pay for the surprise pool for his family.
This is a film that will leave everyone constantly quoting all the hilarious reactions that the older relatives say while their house is falling apart. It is one of the funniest Christmas movies that I have ever seen and I recommend it to everyone.
A Muppets Christmas Carol (1992)
This movie is a musical/ comedy version of Charles Dicken's classic story that consists of mostly muppets.
Michael Caine stars as Ebenezer Scrooge, a grumpy old man that cannot get into the Christmas Spirit and Kermit the Frog plays Bob Cratchit.
On Christmas Eve, Scrooge gets visited by the ghosts of Christmas past, present, and future. The spirits show him the effect he has on people by being a cheap and mean man.
During the movie you also get to see a part of Bob Cratchit's life that Scrooge never knew about. He has four kids with Miss Piggy (two pigs and two frogs) and one of them named Tiny Tim is very sick. Not to mention, they are very poor with a Christmas feast for one to share.
This film is not just for the little ones, it is something that everyone can enjoy. All of the songs are fun and there is a lot of muppet humor.
The muppets stayed true to the original story and it is a must see this time of year.
Elf (2003)
This film is about Buddy the elf (Will Ferrell), who has lived in the North Pole his whole life and is now figuring out as a grown man that he is not an elf but an orphan.
He sets off to  New York City to find his long-lost father (James Caan) who just so happens to be on the naughty list.
While on his quest to teach his dad about having Christmas spirit, he finds himself in love with a girl at the toy store (Zooey Deschanel), eating candy covered pasta, and getting himself into a lot hilarious shenanigans throughout the movie.
It is impossible not to fall in love with Buddy. He is always happy and all he wants is to know where he belongs and for everybody to have the Christmas Spirit again.