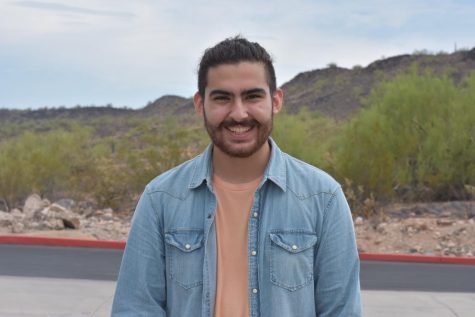 Sadrac Rainey is a Staff Writer of The Talon this year. 
Sadrac joined The Talon because he wanted to better understand story writing, and photography. 
Sadrac aims to improve with his creative writing, photography, and design. 
Sadrac wants The Talon to become more focused on aesthetics, but still retaining a strong overall focus on worthwhile news stories. 
Sadrac likes writing controversial opinion pieces and photography. 
Sadrac enjoys reading, creative writing, and micro and macro photography.
Sadrac Rainey, Staff Writer
Jan 07, 2019

OC Sound Off: Classic V. Modern Christmas Movies

(Story)

Oct 29, 2018

Volleyball sets themselves up for victory

(Media)

Sep 18, 2018

Girls' Volleyball Sets the Path for the New Season

(Media)

Aug 31, 2018

FBLA – long road to Washington

(Story)

Mar 14, 2018

STEAM Festival celebrates 'engine'-nuity

(Story)

Jan 11, 2018

OHS Eagles Kick off the season surpassing all

(Story/Media)

Jan 11, 2018

Dance expresses their desire for adventure

(Story/Media)

Nov 14, 2017

Wrestling rumbles back onto campus

(Story)

Nov 06, 2017

Improv steps up for the new year  

(Story)

Oct 31, 2017

Choir hits a high note with its first performance

(Story)

Sep 11, 2017

OC sounds off: Swift's new song elicits mixed reactions

(Story)

Aug 30, 2017

Upperclassmen resolve freshmen frights

(Story)