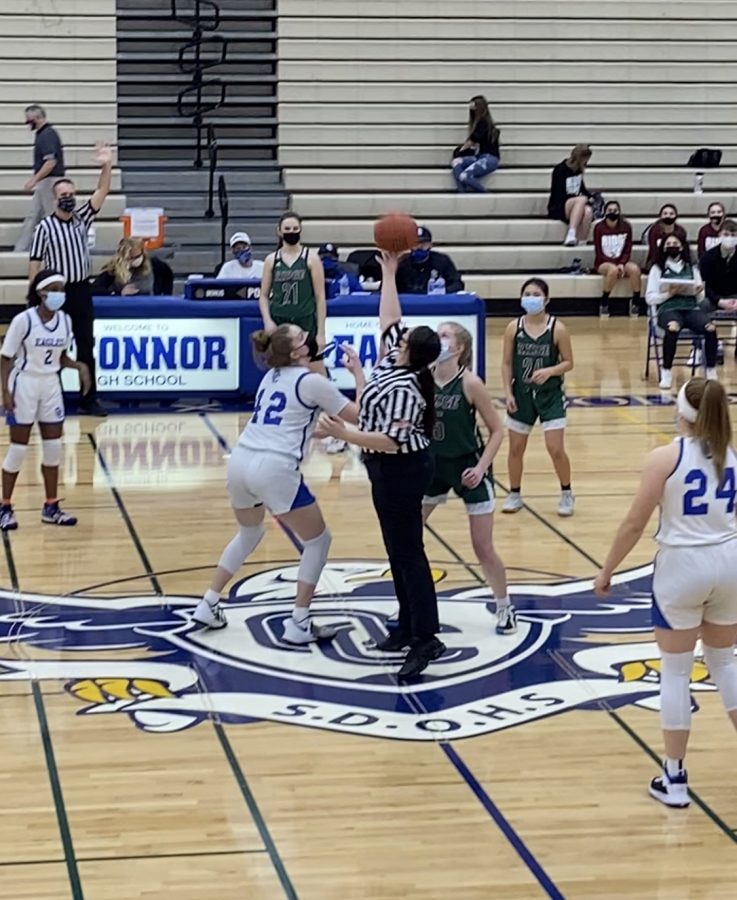 Photo by Christine Frost
Just days after the Arizona Interscholastic Association (AIA) Executive Boardvoted to cancel the winter sports season due to rising COVID-19 numbers, a re-vote in favor of allowing the season to begin as scheduled took place Jan 12 during a special meeting.
The first meeting resulted in a 5-4 vote cancelling winter sports, but in an emergency meeting, they overturned their original decision and voted 5-4 in favor of winter sports beginning Jan 18. Jim Love, who represents the Flowing Wells Unified Arizona School Boards Association was against the season taking place at first, but was one of the representatives who reversed course Tuesday and voted in favor of the season beginning. Love stated his decision to change his vote was largely due to his desire to give schools the choice whether to have sports on campus.
"I was absolutely crushed when I heard sports were cancelled. It felt like they had robbed me of my only source of happiness," said Jocelyn Erickson, Junior. "However, knowing now that our season wasn't supposed to happen, gives the team more motivation and has helped our morale. Knowing that every game we play could be our last makes us work harder in practices and games." 
The AIA board's initial decision to cancel winter sports was met with disapproval from players, parents, and coaches across the state. A small protest of athletes formed outside AIA offices shortly after the announcement to cancel winter sports and a group of athletes and parents returned during the emergency meeting. In addition, a petition requesting a re-vote was created by a North Canyon student and shared across several social media platforms. The petition was signed by over 30,000 people in just a few hours. 
"The petition meant so much to us and probably helped a lot in convincing the AIA to revote. We all shared on our social medias in order to make people more aware of what happened to our season" Erickson said. 
In approving the winter sports season to begin on Jan 18, new recommendations were also adopted. The board voted to allow two parents or guardians per player to attend as long as local mandates on the number of individuals allowed at events is not exceeded. Each school will be required to complete the AIA COVID-19 Athlete and Coach Monitoring Form on the day of athletic events and wear masks at all times. Rece Grant, varsity soccer player feels that masks will make playing harder, but it is worth it in order to have a season. 
 "Masks was one of the changes made in order to make our season work. Although it makes running difficult, I am just happy that we are able to play the sport we love" 
As happy as athletes and parents are for the start of winter sports, many people worry about the AIA's reputation. Their credibility and trust from the community may go down because they did not stick with their original decision. 
"Of course I disagree with their original decision, but not to stick with it, I feel is just as risky. Now people will kind of challenge their authority" Grant said. 
When making their original decision, there were several factors the AIA did not consider. Student athletes' mental health was one of them. Sports are all some athletes have and being robbed of their ability to compete is hard to wrap their head around. Wrestling captain Tyler Clark is a senior and this is his last chance to wrestle with O'Connor. 
 "Wrestling is my life and the team is a family. We were understandably upset but so incredibly thankful the AIA's decision was overturned and we are able to compete this season. We certainly will make the most of it," Clark said. 
Through the ups and downs of winter sports, one thing that stayed constant is the athletes' dedication to the game. "We have learned a lot from this experience, mainly to never take our sport for granted again." Erickson said. OC winter sports are now in full force and we look forward to seeing how they finish in this condensed season.