On My Block season four; hit or miss?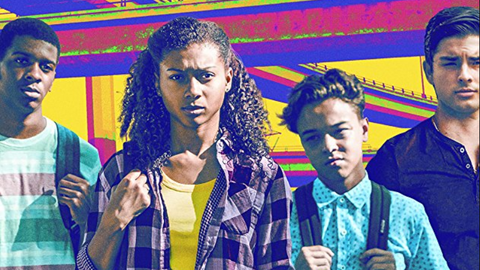 "On My Block" may be one of the most popular and anticipated shows of the year. With a unique mixture of teen drama and real world problems, it is a phenomenal demonstration of friendship and betrayal between teens. 
Although the show has a lot of hype around it, there are many plot holes in the new season, making it difficult to follow the storyline. 
Season four starts off two years after season three ends, leaving fans lost and confused by the abrupt change in the storyline.
The show takes place in a fictional neighborhood called Freeridge, which is in Los Angeles, California. The neighborhood was designed to be sketchy and not your traditional suburban setting that most teen dramas are set in. While exploring problems within themselves, the teens also have to handle problems which arise in their neighborhood, which include gun violence, gang activity, unsafe spaces, and broken friendships. 
"On My Block" has always been known for its humorous, yet heart wrenching scenes. Season four explores the characters' personality changes and how they have drifted apart. Although the group of friends have not spent quality time together since a core member of the group, Monse Finnie, played by Sierra Capri, moves away to go to a new, all girls boarding school. 
Another main character, César Díaz, played by Diego Tinoco, is more deeply explored this season. With César having a complicated family history, he is the perfect candidate for a moody teenager, mixed with a little bit of family drama. When César's brother, Oscar Díaz, played by Julio Macias, decides to leave the Santos, a gang that the series is centered around, César is forced to take over his brother's place. This makes for difficult friendships and even more difficult relationships. 
Monse and César were in an on and off relationship through the previous seasons, this caused drama within the friendship, but the two characters had truly exceptional chemistry. When César became the new leader of the Santos, everything seemed to change as he was forced into a more violent lifestyle, which put Monse at risk. If you truly love someone and care about them, you should never put their life on the line. Cesars promotion in the gang puts Monse at a higher risk, which causes their relationship to break. 
With the two year fast forward, many of the characters changed drastically, but the character that probably had the most visible of a change was Jamal Turner, played by Brett Gray. Jamal was an awkward and imaginative teen who spent most of his time chasing after buried treasure and solving mysteries; however, in season four, he has become a jock and your typical football playing douche-bag. Changing the whole dynamic of a character is a poor decision on the writers part, as it makes a once loveable character a shallow and hated person.
Due to the two year time jump, one would only expect the characters to be different, but there was not very much context for how they changed. The reasoning behind their transformations was not as deeply explored as it could have been and the amount of plot holes and events that did not make sense is astounding. 
Out of the core four main characters, Ruby Martinez, played by Jason Genao, seems to have remained the most similar to his original character. Ruby is an awkward teenage boy, who is experiencing not only normal teenage problems, but also issues that arise in his neighborhood. 
With the lack of filler information, it is hard for fans to truly understand what is going on with the characters and why. Viewers are left confused from the last season, with no ability for closure. 
"On My Block" has officially ended and there will be no further episodes, so it is almost an understatement that fans are disappointed by the lack of plot development within the season, as well as the amount of missing pieces which the series does not address. It would be safe to say the "On My Block" will be off of the Netflix top ten pretty soon.