Ethan Gilchrist
Choir finished the year off with their spring concert on May 5. This choir show featured a diverse set of acts from special acts of their most recent trip, to fun entertaining acts.
"We are going to be having a huge variety of music in this show, we're going to be having very classical pieces that we performed as a choir in Carnegie Hall a month ago in our New York trip," said Kailash Raman, junior.
"We also have a lot of fun pieces such as the guys are singing "Man out of you" from Mulan."
This show also featured Latin musical numbers because the show took place on Cinco de Mayo. Some examples of Latin numbers were La Cucaracha performed by the freshmen girls, and Jalapeño Brothers performed by Raman and Grahm Kenobbie, senior.
Cindy Durazo, choir teacher, says this show required much more preparation than other choir shows.
"I think a tremendous amount of preparation has taken place," Durazo said. "Because of our New York repertoire we have doubled the amount of music we've had to learn in the same amount of time we've had and the kids have worked very hard to make this show a success."
Despite more preparation, the choir show was a success for the audience and choir students.
"The choir show was phenomenal. The kids did a fabulous job, the audience was appreciative, the kids did their very best, it was fantastic," Durazo said.
The diverse set of acts led to a variety of standout performances, each bringing out different emotions from the audience.
"Some of the audience's favorites were the Jalapeño Brothers; it had comedic relief with Kenobbie and Raman. Also, a South African piece, Dubula, the kids loved performing that, the audience loved hearing it," Durazo said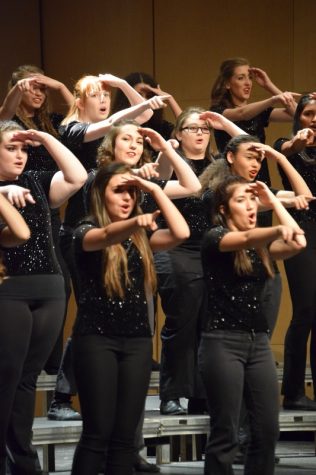 "Tears came to people's eyes from 'How can I keep from singing', the audience loved it."
Durazo says choir worked hard this year and they'll continue to do the same next year.
"My goals were to get the kids to sing better, to build their musicianship and performance skills, and to have the kids do their very best and I do believe they did their very best," Durazo said
"I expect kids to give their very best at all times and I'm sure we'll achieve that next year."